I've spent the week scouring different locations, and can now offer you not only five different places to go, but also pictures from each place.
Spot No. 5: Lakeland Highlands Scrub Area
The Lakeland Highlands Scrub Area is a wild and open wilderness area on the South Side of Lakeland. To get there, go south on Lakeland Highland Blvd. until you run out of road. You should be there by that point.
The area is on the edge of old phosphate property, and you can see the remnants if you look close. An old railbed makes for a good grassy path that runs near the boardwalk, and there's also very sandy parts where you'll huff and puff to get through if you aren't on a low gear.
Our recommendation? Stay on the grass areas and the boardwalk for starters. If you want to brave the sand, be sure to clean your bike later. Nobody likes a gritty gearshaft.
This testosterone-packed experience not enough for you? Go try some biking in the Green Swamp, 20 miles north of town.
Spot No. 4: Lake Mirror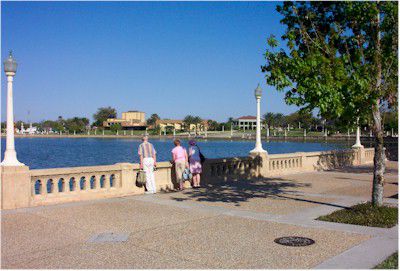 If you're looking for a more relaxing experience than the open wilderness, there's no better place than downtown at Lake Mirror.
A wide and well-paved path circles the lake, which gives you easy access to the restaurants and shops downtown, and also to Hollis Gardens and Barnett Park.
Sounds like a great date night, but I haven't got a bicycle like this one yet.
Spot No. 3: Fort Fraser Trail
If you're a rail trail junkie and you think that the Van Fleet Trail is the best 40 miles that ever happened to the biking community, then you'll eat up the Fort Fraser Trail.
The trailhead is just after Winter Lake Road on Bartow Road, but they kinda forgot to build a parking lot there. So, you can either hop the curb and park in the dirt, or park just down the road at the PSC trailhead parking lot.
This trail curves and canters its way along U.S. 98 (Bartow Road) down on its way to, you guessed it, Bartow. The trail is not built on the old railbed itself, but is still set a nice distance from the road. It dips and climbs like a rollercoaster along the way, and is paved very well.
Spot No. 2: Carter Road Park
Our choice for the wildest, most extreme biking experience in Lakeland is out at Carter Road Park (they're trying to get us to call it "Loyce Harpe Park" these days.) off of South Florida Avenue.
The area is mostly for mountain biking. Please do not bring a road bike. You will end up muddy, bloody, and bruised.
Like the Highlands Area, this place is on old phosphate land. There are three territories that I could find, and for all I know, there could be more out there.
Area one is right in front of you as you stand at the entrance to the park. It's a short-warm up area that leads to the right. You'll pass across a dirt road into area two, where the pace picks up a bit.
Eventually you'll come to another dirt road, which leads back into an area with all kinds of jumps that loops back round to the sand dunes. Come prepared to be adrenalized.
Directions: Turn left at the light right before the Superwalmart and you'll see the park ahead on your right. The biking part is all the way in the back.
Spot No. 1: Lake Hollingsworth
Our top pick for the best place to bike in Lakeland is naturally Lake Hollingsworth. With an exterior loop for fitness and an inner one for leisure, this 3-mile lake provides a relaxing time or a good workout, depending on what you're looking for.
There's also the lake-to-lake path that goes past Florida Southern and hooks up with Lake Mirror. If you're wondering why they haven't done something like this for Lake Morton yet, it's because the geese keep mugging the bikers.
That's all for this post– Happy Trails!